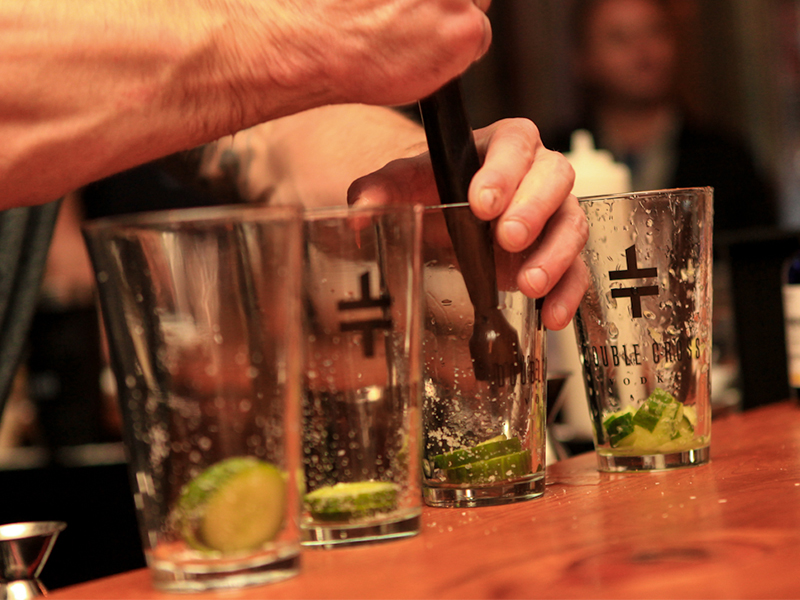 Professionalism and good business practices are often transferrable across a diverse range of occupations. That lesson was reinforced for Motiv recently, at a fun, after-hours group tutorial in the art & science of adult beverages, presented to our team by John Drew, the longtime head bartender at Boston's Blue Dragon, who recently joined Beam Suntory as luxury spirits specialist.
Over the course of his 90-minute, informal presentation from behind the bar, John delivered some important lessons that can be applied to any type of business. Notably:
1. Be Authentic. Right up front, John made a point of describing his craft using simple, easy to understand terminology. "I'm a bartender," he explained, "and please don't call me a 'mixologist'." His modest, unassuming approach gained our immediate trust and credibility. By not attempting to either hype or apologize for the nature of his work, John also increased the stature that we assigned to bartending, and to him as a professional bartender. In most businesses, customers are not impressed with (and often suspicious of) hype and complex explanations. They prefer to engage with professionals who explain or demonstrate what they do clearly, manage expectations, and deliver on what they promise.
2. Tailor Your Message. John had several topics he intended to cover in his presentation. But individuals within our group had varying interests and endless questions that took him down unanticipated discussion paths. Some had questions about history. Some wanted to know about flavors. Some wanted practical tips. Others wanted to hear anecdotes. John was able to go off-script with ease, switching topics as required, but always finding a way back to his agenda. Keeping an audience engaged, and creating a natural discussion journey is a critical skill in business, whether you're talking to an individual or a group, and whether you're standing on a podium, or sitting across the desk from them.
3. Don't be a Sucker for Trends. John told several stories of customers "saddling" up to the bar, eager to impress him with their knowledge of exotic new drinks, requesting that he create one of their concoctions. But his standard response was not to accept their challenge immediately. Instead, he would turn the tables; asking for their preferences in flavors, ingredients, etc. Then John would create a drink better suited to their individual tastes, rather than the trendy drink they had requested. In any business, listening to what a customer wants is always important, but greater value can be delivered by asking the right questions and producing a tailored solution they would not have discovered on their own.
4. Be a Student of Your Craft. John's authenticity as a bartender was based on his extensive knowledge, which far exceeds his inventory of cocktail recipes. His deep understanding of complex topics – the alcohol aging process, the influence of barrel materials, distinguishing brand-specific flavor profiles, etc. – kept everyone's interest. But the key to John's success, as a bartender and as our instructor, was based on the level of enjoyment and enthusiasm that he conveyed to us. In any industry, remaining excited about what you do for a living, and being a constant student of your own craft, is an essential ingredient for long- term success. Customers can feel the joy and commitment you bring to your profession. It's always infectious, and serves as the cornerstone of your brand.
So Motiv raises its cups to you, John Drew, for the spirits you delivered, and for the important lessons we took away from that enjoyable evening. Cheers.
[Note: If you're interested in learning more about John, here are some additional insights from Nightclub & Bar magazine.]